2019 Special Events


---
Flea Market Weekends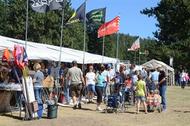 Flea Market weekends on the Sumpter Valley are a great time for everyone. Extra trains are offered on these Major Holiday weekends as well as extra days for each of the three large Flea Markets held every summer in the historic gold-mining town of Sumpter, Oregon.

Excursion trains will be using the Major Holiday Weekend Schedule on Memorial Day, Fourth of July, and Labor Day weekends. Round trips will depart from the McEwen Depot at 10:00 AM, 12:30 PM, and 3:00 PM. Round trips depart from the Sumpter Station at 11:30 AM and 2:00 PM with a one-way only trip from Sumpter to McEwen at 4:30 PM.

---
---
Train Robberies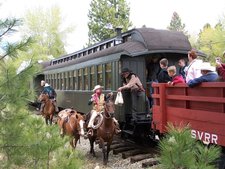 B
ring the whole family for a trip back to the Wild West! The
Gold Rush Bandits
are a historic shooting group that employs period firearms and costumes for their horseback mounted robberies. It's fun for all ages. The train robbery dates are as follows...
​
June 29, 30
July 20, 21
August 17, 18
September 21, 22
---
---
Fall Colors Train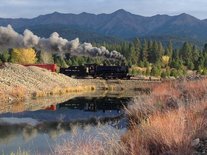 On Friday, October 11 these trains are run as a bonus the day before the Photographer's Weekend for those that want a steam-powered trip through beautiful Autumn foliage without making it an all-day event.

The Fall Colors Train operates on the regular weekend schedule with round trip departures from McEwen Depot at 10:00 AM and 1:15 PM. Round trips depart from Sumpter Station at 11:45 AM, with a one-way only from Sumpter to McEwen at 3:00 PM
---
---
Photographer's Weekend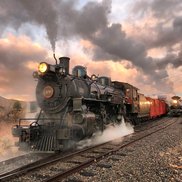 S
aturday and Sunday, October 12 and 13, the
Photographer's Weekend
is an annual post-season event for photographers and fans of history alike. It's a full day of fun with trains operating over the entire line both Saturday and Sunday. Beautiful fall colors, two vintage steam locomotives and a fleet of historic freight and passenger equipment performing numerous photo stops throughout the day. Breakfast and lunch included, reservations required.
​
Continental breakfast starts at McEwen Depot at
6:00 AM
.
Trains depart the McEwen Depot each day at
7:00 AM
.
CLICK HERE
for more information on the
Photographer's Weekend
.
---
---
Halloween Express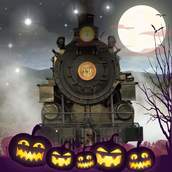 Sumpter Valley Railroad will be offering a Halloween Express. Passengers will be greeted with lots of decorations and a haunted train with treat bags for everyone. After arriving in Sumpter be sure to check out the Haunted Gold Dredge and listen to ghost stories of the past. Rumor has it that Joe Bush, the dredge worker from years past, will likely be making an appearance, so come join the fun.
​
​
​
---
---
Christmas Trains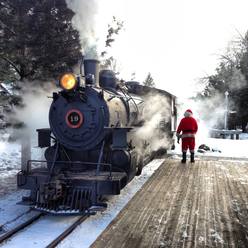 Take a steam-powered trip back in time through a winter wonderland! Visit with Santa at the Sumpter Station, warm up with free cocoa, coffee or tea. Then go shopping at the Sumpter Christmas Bazaar. Christmas Trains on the Sumpter Valley are fun for the whole family, and are just a small part of the winter activities and events to be found in Baker County this holiday season!
Dec. 14 10:00 am, 1:00 pm

, 3:45 pm

Dec 15 10:00 am, 1:00 pm
T
rains will be on a regular weekend schedule with round trip departures from McEwen at
10:00 AM
and
1:00 PM.
There will also be an evening lights train departing McEwen on Saturday December 8 at
3:45 PM
in time to watch the Sumpter tree lighting and traditional Christmas parade.
---
---
RESERVE YOUR TICKETS


Y
ou can easily make reservations for any train by contacting us at
reservations@sumptervalleyrailroad.org
. Please include your full name, your E-Mail, and the following information:
The date that you will be visiting.
The train that you would like to ride, Train Number and Departure Time.
Whether you will be traveling Round Trip or One-Way.
Number of passengers and their ages.
We will respond to your reservation request as quickly as we can, though it often takes a few days for a confirmation. If you would prefer to make your reservation via phone, please call the Sumpter Station at 541-894-2268. We do not take payment in advance except for certain special events.
---